Spring Concert - St James' Church, Birstwith, Sunday 29th March 2020 has unfortunately been cancelled.
We will reschedule once the Coronavirus is over.
Summer Concert Sunday 7th July 2019
A concert with a view - Toft Gate Barn, Greenhow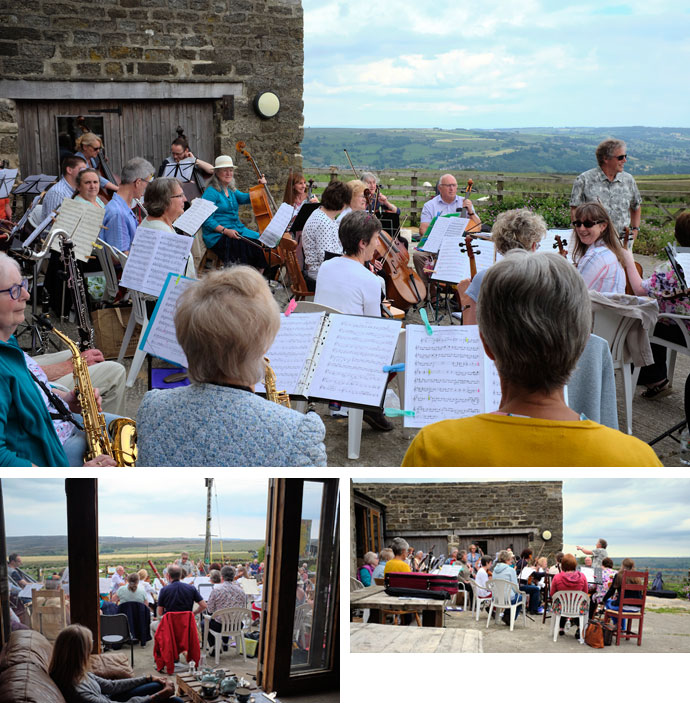 Pateley Bandstand on a sunny July afternoon
Fundraising for Yorkshire Air Ambulance at Musical Mayhem, Memorial Hall, Pateley Bridge
The Nidderdale Community Orchestra is a new orchestra which started in September 2011, and is based in Pateley Bridge.
We welcome players of all instruments and all ages. Some of our members have dusted instruments off after many years of hibernation, others have just begun. We have lots of fun playing together, please think about joining us.
Here's what our current members think about us:
"sense of achievement - playing in a group"
"fun - challenge - learning"
"developing musical skills - gaining confidence"
"relaxed atmosphere - great people"
To join
Please either come along to one of our rehearsals or contact the This e-mail address is being protected from spambots. You need JavaScript enabled to view it Helen Jarosz. We have a termly membership fee of £40, payable at the first rehearsal of each term, or an annual fee of £108 which includes a 10% discount.
We are directed by Bryan Western, conductor of the Harrogate Symphony Orchestra.
Amateur orchestras in Yorkshire